National Apprenticeship Week
Posted: 3rd February 2020 Categories: General
The 3rd - 7th February 2020 marks the 13th anniversary of National Apprenticeship Week with a 'Look Beyond' theme.
At Mint Homes we are proud of our apprentices. We took on our first Business Administrator Apprentice in 2018. The number of landlords and tenants wanting to use Mint Homes was growing and we needed someone to join our team. Ideally someone who was willing to learn, support all areas of the business and keen to develop.
Kendal College were extremely helpful in putting us in touch with potential applicants who were studying a Business Level 3 Diploma. Their students need to demonstrate the necessary skills, knowledge and behaviours to pass their apprenticeship, but Kendal College make sure their students' overarching focus was on contributing to the improvement of our business. We were introduced to Courtney, who grabbed the chance to gain practical experience in the various roles available in a busy office environment whilst obtaining an Apprenticeship Qualification.
Courtney says: "I had finished my GCSEs and didn't think university was what I wanted. When I saw the opportunity at Mint Homes I knew it would be something that I'd love to do. I worked four days a week throughout my apprenticeship, and completed a BTEC level 3 Diploma in Business Administration on my one day release from Mint homes at Kendal College. The whole experience has been brilliant."
Courtney passed her apprenticeship with flying colours, and has now been promoted to Maintenance Coordinator.
In May 2019 we took on our second Business Administration Apprentice. Zoe is coming to the end of her apprenticeship period and is in the final stages of completing her Advanced Level Apprenticeship course at Kendal College on her day release, which focuses on skills, knowledge and behaviours.
Mint Homes is committed to investing in young talent. Introducing apprenticeships meant we could offer tailored training, ensuring specially qualified employees can bring a fresh perspective to our work environment. We were so pleased with the can-do approach from Courtney and Zoe. They both bring far more value to their role than their job description, they're proactive, eager to try something new and are streets ahead of us with their knowledge of tech and digital comms. We wouldn't be Mint Homes without our apprentices.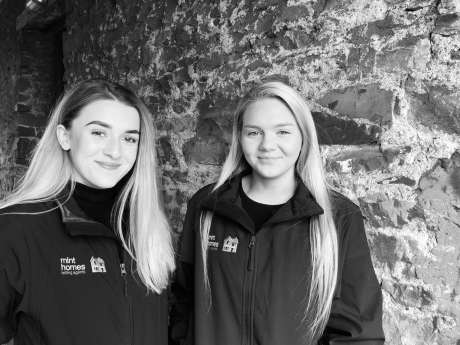 Categories
---
Share This Article
Know someone who would like this article? Share it with them.